Raised garden beds are beneficial for people who have limited space or want to increase their plant yield without much hassle.
This is also true for people who have contaminated ground such as rocks or chemicals which makes them unable to plant anything on it.
Let's dig right into it and see how you can get your own perfect elevated garden bed. 
Raised Bed Gardening
If you are asking why you should build an elevated garden bed then consider the following:
Benefits of Raised Garden Bed:
Soil choice: You can choose the high quality of soil for your elevated garden which may not be possible otherwise.
Soil erosion: It prevents soil erosion. As it happens during rain or water the garden. The fertile, loose top soils get washed away with the water. The higher garden bed creates the barrier which stops the ground from erosion.
Better use of space: It allows you to plant vegetables and flowers narrowly. You still get the high yield due to high nutrient level in the soil and the targeted fertilization to the individual plants.
Water saving: It saves water as you do not have to water the whole garden. You can drip irrigate your garden due to the limited size of your elevated garden.
Weed removal: Elevated garden beds results in a fewer weed in the garden due to above the ground soil level. It is also far more comfortable to take out grass from your raised garden.
Easy on your back: The elevated garden bed makes you bend less while working on your plants. It reduces the stress on your back which results in fewer health issues.
Precautions For Raised Garden Bed:
Non-Toxic materials: You have to be careful with the wood you use for your raised bed. You should avoid woods which are chemically treated with toxic products. You will be growing edible plants, and the toxic laced wood may transfer those chemicals into the plant and then to your food.
Railroad ties: You should avoid using railroad ties as they are treated with creosote which is a toxic material.
Thicker plank: To future proof, you should use a thick wooden board. It will increase the life of a garden bed. The stronger and thicker wood will be able to handle the soil and plant weight better.
Cedar woods: Cedars woods contain natural oils which do not let it rot quickly and increases the life of your garden bed. Make sure cedar wood is untreated.
Wood alternative: For cheaper raised bed options you can use wood alternatives such as bricks or concrete blocks. You have to be careful as these alternatives contain chemicals which may change the pH level of the soil. The change in pH level will cause the plant yield to drop unless you amend the soil.
Here are some common types of raised garden beds. 
Types of Raised Bed
Based on the type of material and the design, you can build a wide variety of raised gardens. Some common types of raised garden beds based on the material used are:
Wooden Raised Bed
You can use new or reclaimed wood to build different layers of the raised garden. Wood is the most popular option for making a raised garden bed. We recommend you to use cedar woods as it is naturally resistant to rot and insects.
It is also easier to color wood which will blend perfectly with your landscape design. Cedar elevated garden bed kits are available at major retailers like Home Depot and Costco.
Note: If you are planning to grow vegetables, flowers, and herbs then a wooden raised bed is ideal. It is lightweight and strong which makes it suitable for patio, decks, porches, and balconies. 
Composite Raised Garden Bed
The composite garden bed is made from plastic and wood fiber materials. It gives you the best of both worlds. Unlike the wooden garden bed, the composite board will not quickly rot, warp, splinter, or fade. This prolongs the life of the garden bed and needs low maintenance and care.
Some composite raised garden bed design allows you to stack many beds together to make the box as tall as you want. The stronger strength of composite material allows it to handle for much larger weight than the wood alone. 
Concrete Raised Garden Bed
The concrete raised garden bed is helpful if you want to have a designer garden. These concrete blocks are made from different shape molds. Concrete makes it far easier to create a complex shape with adequate strength compared to cutting a block of wood for elaborate design.
These concrete blocks come in pieces, and there is no screw or measurement involved. Based on the size of your garden beds you can buy the required number of blocks.
Assembly is easy as you put everything together per instructions to get your elevated garden ready. For extra stability of concrete barriers, you can use steel bars to fix blocks in the ground. Deck screws can also be used to attach a wood capping to the garden bed.
Make sure the ground bed is flat before you start putting together a concrete block. If not, then it will be shaky and unstable.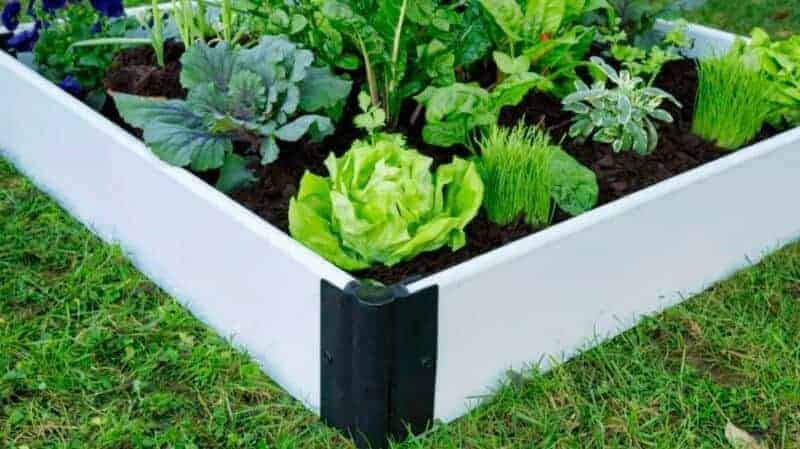 Vinyl Raised Garden Bed
Vinyl raised garden bed is made from consumer recycled plastics. These are shallow maintenance boards that will not rot, warp, splinter, or fade. Its custom design allows you to install easily without manually cutting the boards or fiddling with drill bits.
You can also cut the board to fit your tight space requirements. Vinyl is a cheap garden bed. It is far less expensive than any other options while maintaining lightweight and durability.
Plastic Raised Garden Bed
The plastic raised garden bed has similar functionality as the vinyl raised garden bed. The only difference is the type of material used. Vinyl is made with polyvinyl chloride (PVC) resin whereas plastic is made from high-density polyethylene.
The benefit of polyethylene is that it is chemically inactive, BPA, and Phthalate free. It makes it ideal for growing edible raised vegetable gardens. The plastic garden bed contains chemically inert UV additives. It prevents the plastic from fading and degrading from direct sunlight. 
Stone Raised Garden Bed
Stone-raised garden beds are made from natural stones. These types of garden beds are fit for the outdoor which match with the landscape of your garden. The main challenge with the stone bed is the initial construction and the heavyweight of the rock.
It is often tricky to stack stone garden beds which makes it challenging to work with. But the benefit of a stone-raised bed is its low-maintenance and unlimited life of the garden bed. Once completed, you can grow any kind of plant in it whether be it flowers, trees, or edible plants without any restriction. 
Preparing The Raised Garden Site
It is essential that you choose your site carefully when preparing for your raised bed garden layout. Make sure it gets enough sunlight and there is proper water drainage. The garden area has to be flat. So, you start by digging the ground 6 to 9 inches deep.
Remove any weeds, plant roots, rocks, wooden chips from the ground. If you already have a lawn and you want to build raised garden on top of it, lay down some ground soil, tarp, and put landscape fabrics to kill off weeds and grass.
Once you have prepared the necessary foundation of the raised garden site, you can move on to build your elevated garden bed.
If you want to build raised garden bed yourself, then follow these instructions.
Building The Raised Garden Bed
Note: If you are buying the raised garden bed from retailers then you may not have to follow these instructions. Retail raised garden beds have already pre-cut measured dimensions of the board. You have to follow their instruction to assemble the garden bed. But you are a handy person and want to build a DIY raised garden style then read along.
How To Build A Raised Garden – Fundamentals
To build a raised garden bed box, start by stacking the untreated woods. Then overlap the joints at the corner and screw it to make a four-cornered frame.
Partially fill it with a layer of debris including stones and broken crocks for drainage. Then fill the deep beds at least 6 inches of topsoil or compost, and to it with a layer of mulch. Do it when the weather is not too cold. You can use the best indoor and outdoor thermometer to know the outside temperature.
Here is a step-by-step instruction to build a homemade raised garden bed.
Step 1: Measure the dimension of the ground where you want to build your elevated garden bed. Mark it with either marking color or put a stake on it. Then dig the earth which is wide enough to accommodate the wood.
Step 2: Layout the boards on four sides on your marking and use a bubble level to check if they are leveled.
Step 3: Make sure that the base is square by checking that the diagonals are equal in length. You can also use pre-cut wood to get the perfect size bed.
Step 4: Using a rubber mallet, tap the wood, so it butts up against the remaining level and remains upright. You may have to remove any soil between the blocks.
Step 5. Drill holes through the end plan into the next pieces at the top and bottom. Use long heavy-duty timber lock screws to secure the boards.
Step 6: Depending on the height of the raised bed, you can attach the next layer of board on top of the base. Check the level before you start joining it with screws.
Step 7: For better drainage, partially fill the base with debris. You may not have to do this step if you are making a shallower bed. Add at least 6 inches of topsoil free from weeds or rocks into the bed.
Step 8: If you want to plant vegetables and want to keep birds out of your garden then you can attach the net to the sideboard. You can raise it when you need it to cover the garden bed. Don't forget to water the garden immediately once you have planted it. 
Step 9 (optional): Once you get the topsoil ready, install the drip irrigation system now before planting.
Tips For Raised Garden Bed
Here are some useful tips while building a garden bed.
Ideal Elevated Bed Plants
There is no restriction on the type of plants you can sow in your raised garden. But depending on the types of material you used for the raised bed construction there are some plants that may be more suitable than the others.
For example, if you are planning to grow vegetables, then the use of a plastic-raised garden will be best. Most of the plastic raised garden is lightweight and portable and depending on the design of the garden bed, there may also be a wheel to move it around.
It is also helpful if you live in a city where you may have limited space, and you want an elevated garden on the balcony. For an outdoor raised garden, there are no such restrictions on the type of plant you can sow.
If you are not ready to plant it right away, then you can cover the soil with organic mulch and shredded leaves. It will protect your soil from deep frost, and these organic materials will decompose naturally to become natural compost.
Plant Space
Before you plant, you have to know the full-grown size of the plants, so it has enough space when plants mature.
Underestimating the space requirements of the plants when it is small will make it struggle for space as it grows. It will result in a weaker and not-fully grown plant.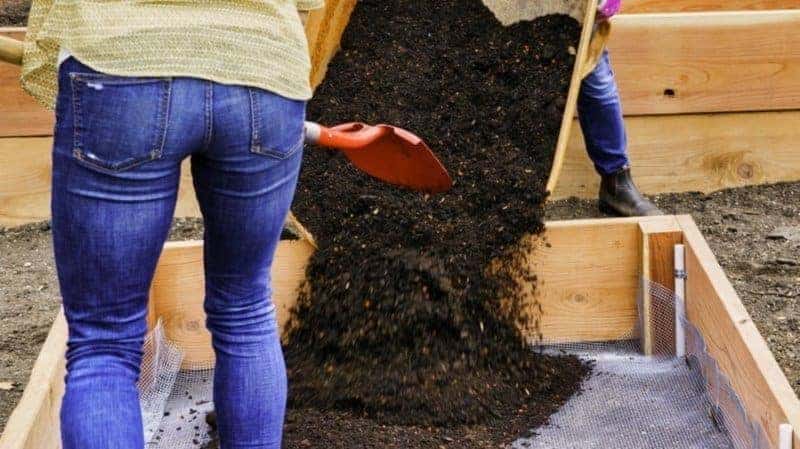 Raised Garden Bed Soil
The soil for a raised garden bed should be of good quality and free from weeds and rocks. Many people make the mistake of using poor-quality garden soil in their raised gardens.
You have already spent so much time and effort building your raised garden. Now don't get careless on the critical ingredient of gardening.
Use fertile soil, which is filled with microorganisms to help grow the plants. A mixture of 50 to 66 percent of good quality topsoil and 45 to 55 percent of organic compost provided an excellent base for most of the plants to grow.
Don't forget to test the pH and nutrients of soil after each growing season. Unusually high or low pH causes the plant not to get the required nutrients which result in discoloration, low yield, or plant dying.
Depending on the test result you can change your soil with additives and fertilizers to increase its potency.
Rotate Crops
Edible plants need lots of nutrients from the soil and are very taxing on it. You can add organic compost to cover up the nutrient level, but there is also a better way to deal with it.
You can plant cover crops in the off-season or do the crop rotations. These cover crops complement the plants you have grown in the earlier season and add back nutrients and organic matters used up before.
You can use oats, rye, clover, and buckwheat as a cover crop. These are good in improving the soil structure of a raised garden bed by increasing the soil porosity. It helps keep the water and oxygen in the soil. 
Sunlight For Raised Garden Bed
All plants need proper sunlight to grow healthy. Keep the raised garden bed in the direction where your plants will get at least 10 hours of sunshine in the summertime. Make sure there are no building structures or big trees to shade the garden area.
Water
Plants need water so you must water the garden bed, otherwise, it will get dry and die. But be careful not to flood your plant in excess; otherwise, it will cause the roots to rot.
You can check if your garden bed needs water by inserting your finger 2 inches inside the topsoil. If your finger gets wet, then do not water the garden but recheck it after a day or two.
Summary
Raised garden beds take effort to build, but once you are done, it is mainly a stress-free, high-yield producing garden. There are so many options you can choose when designing and constructing the elevated garden bed.
Many gardening and home hardware store contain pre-made raised garden bed kits. It makes the process of putting together an elevated gardens painless.
Let us know your thoughts about these garden beds and if you want to share any tips or techniques then let us know in the comment below.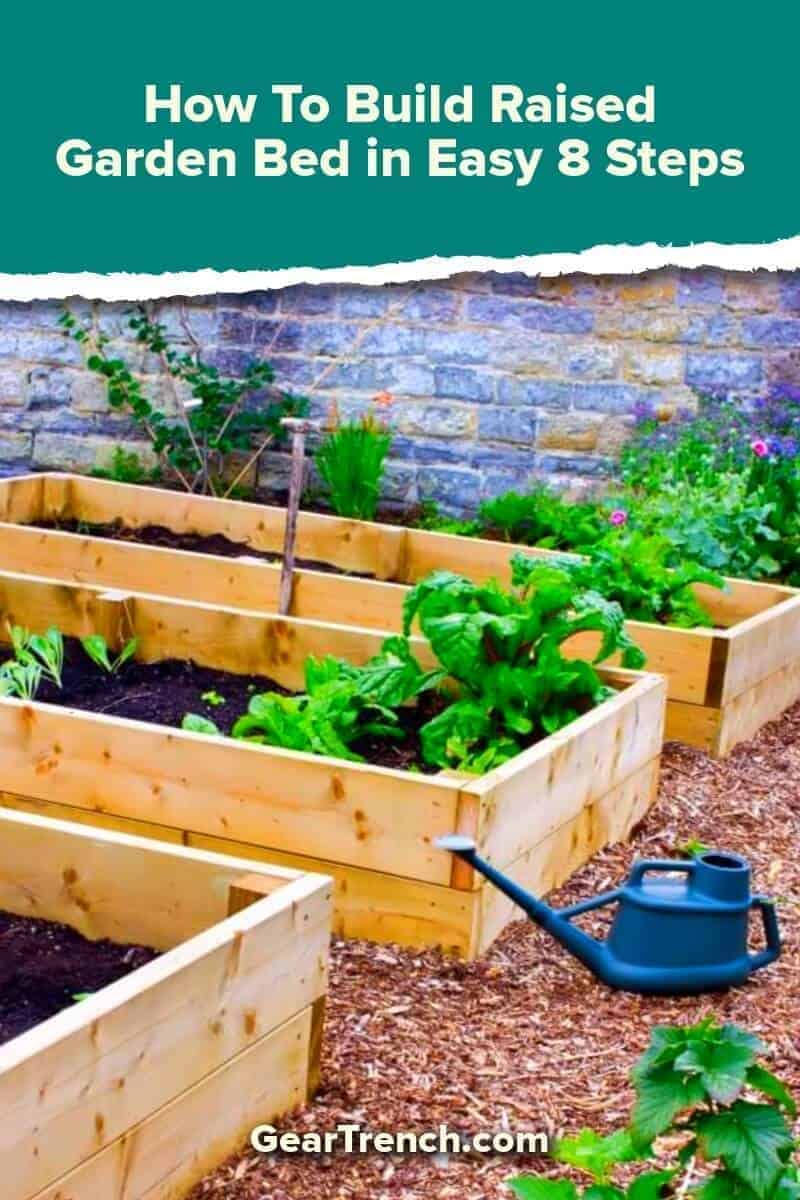 Don't forget to share this post